Ipe Decking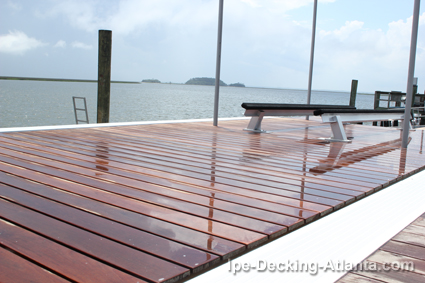 We sell several different types of decking material. Our best seller is Ipe Decking. You may be surprised by many of the features of this 100% solid wood decking:
Resistant to wood eating insects

When ipe grows in the forest it has enzymes that wood eating insects just don't like.
It's so dense, termites and other insects have trouble eating it.

Resistant to mold, mildew and decay

Chemicals put there by Mother Nature as the tree grows make it a difficult place for fungus and bacteria to grow.

Splintering?

Not on ipe deck boards. The more dense and sturdy a wood is, the less likely it is to splinter. Take your shoes off, get comfortable, sit a spell…

Ipe is fire resistant!

Not fire-proof, it'll burn, but it's difficult to light and keep burning.

It lasts 75+ years.
Ipe decking is strong!

It's the strongest wood decking material you can buy.
3680 on the Janka hardness scale.

Ipe is beautiful

Especially when you consider we sell Premium Grade, not "Firsts and Seconds" which has more knots and defects in it.

Ipe Decking now affordable!

Due to advances in import processes and delivery methods, ipe is now at or below the cost of man made decking materials.
It's so much better than man made and composite decking so if the cost's the same, what are you waiting for?

Environmentally friendly.

It's true! because of Brazils strict laws on sustainable forestry management every tree that's harvested is replanted.

Carbon Value Credits mean that even more get replanted.
There is NO clear cutting, only selective harvesting.

We are even an FSC® Certified decking supplier.
Ipe Deck
An Ipe Deck is a thing of beauty that will last you a life time. If you apply Ipe Oil™ it will last you longer than most people's life time. It doesn't leech the chemicals that other decking materials do, it looks great, and it lasts longer than anything on the market. On top of all this it's not the most expensive. You deserve a deck that looks great and lasts a lifetime.