Atlanta Decking Supplier
Our customers appreciate that we only specialize in proven materials that create beautiful and durable decks for Georgia and Atlanta area residents. These natural hardwood decks are enjoyed all year round and don't require constant upkeep. They also have the benefit of being extremely affordable when compared to higher cost composites.
Ipe Decking Atlanta
Ipe decking is our most popular product thanks to its many natural features. Our Atlanta area customers prefer to use this material because it does not contain any chemicals. Ipe decking is also:
Proven to last 75+ years
8 times stronger than redwood, 3 times stronger than teak
Naturally beautiful
Insect resistant
Resists fungus better than pressure treated wood and composite decking
Much less likely to splinter, cup or warp than any other material on the planet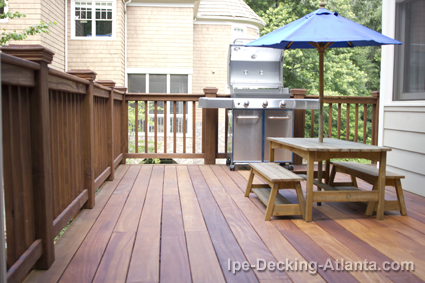 An Atlanta deck made of hardwood far outperforms pressure-treated decking. Choosing natural hardwoods over treated decking is also a sound choice because the hardwoods we sell are free of poisonous chemicals. If you don't like the color of ipe, no worries. We are direct importers of 100% solid hardwood decking materials including Ipe, Tigerwood, Cumaru & Garapa.
How to Buy Decking from Us
You can call us directly, Monday through Saturday from 8:30 AM to 8 PM EST. In addition to custom orders, we also carry deck tools & accessories. Currently we ship to Atlanta GA from our next closest national distribution warehouses. We also offer our convenient decking quote form.